In order to study the origins of the city's coat-of-arms, you have to go back to the end of the 11th Century, i.e. the period when the Muslim's hold over Sicily was ended by the Normans and Count Ruggiero started his domain over the island.
The coat-of-arms of the various towns were used to indicate the territory subject to the jurisdiction of the feudal lord and the Aeolian Islands under the Normans were simply a feudal signoria represented by the head of the Church, under whose sway the town laws were developed. Thus it is during the period of rule under Abbot Ambrose and Bishop Giovanni that the Lipari coat-of-arms came about.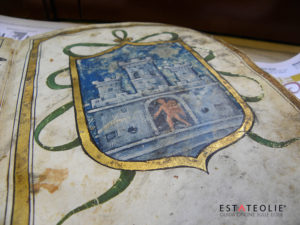 It consists of an embattled castle surmounted by three towers, the central tower being higher than the other two, on a sky-blue field. The return of the people of Lipari to the free profession of the Christian faith, the memory of the miraculous landfall on the island of the body St. Bartholomew and the protection for their land that the Lipari islanders claimed from this Apostle caused them to add the effigy of St. Bartholomew to their coat-of-arms, in the oval gateway to the castle, with the skin of the saint's body gathered on the left arm, confirming the professed religious idea and as recognition of the saint held to be the protector and defender of their city against all outside threats.
Later on, the royal crown was added, by royal grant, as recognition of the loyalty shown by the inhabitants of the city of Lipari to their sovereigns.
The Lipari city coat-of-arms was completed in July 1458 with a grant by Ferdinando, King of Naples, that the badge itself should be crowned with the royal crown and the city motto around this: "A crown I wear for too much loyalty".
Lipari ferry schedules
Routes and times updated in real time and refer to the current week.
From April to October, routes run much more frequently. We suggest you double-check the schedule a few days before your departure!
Hotels, B&Bs, and Villas on Lipari
Book online for immediate confirmation. 12.000+ hotel rooms booked through booking.com


© RIPRODUZIONE RISERVATA