The island's western part is composed of rugged uninhabited slopes, the eastern part shows terraces sloping down the sea; on them has been established and developed the development that is the island's only village.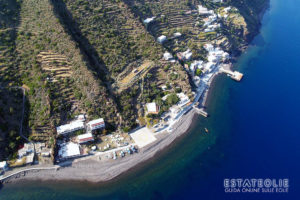 Leaving from Alicudi it is possible to climb the Filo dell'Arpa mountain.
You go up following a small road which heads to S. Bartolo's church, you then follow a path that winds up from terrace to terrace, through rocky land rich in Indian figs, capers bushes and reeds to the top, from where you can admire a splendid landscape.

The trip back in the island's history brings you to the Piano Fucile area (where there is evidence of Capo Graziano's construction), and to the natural fortress of Timpone delle Femmine.
Ceramic fragments of the Roman period are spread along the island's eastern coast.
Alicudi ferry schedules
Routes and times updated in real time and refer to the current week.
From April to October, routes run much more frequently. We suggest you double-check the schedule a few days before your departure!
Hotels, B&Bs, and Villas on Alicudi
Book online for immediate confirmation. 12.000+ hotel rooms booked through booking.com
© ALL RIGHT RESERVED